Rebecca Hayes' E-Portfolio
About Me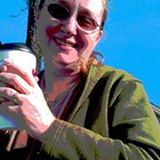 I am currently a student in the Instructional Technology program at UNC Wilmington. Why would someone with a background in Journalism and English want to study Instructional Technology? It is actually a logical step, if you understand where my interest in computers started. I remember the first time I ever really got to use a computer. It was an Apple IIe, and I was in a computer-programming class my senior year in high school. While the projects we worked on were simplistic by today's standards, it was a life-changing experience for me. I learned that technology was not something to be feared but a tool to be used. I began to turn to computers whenever I had academic work to accomplish or a topic to research. Thanks to this early experience, for me education and technology have always been intricately intertwined.
Background
I have lived in North Carolina all my life. I grew up in a small town outside of Asheville, near the campus of Warren Wilson College. I graduated from UNC Chapel Hill in 1990 with a BA in Journalism. I worked for several years in restaurants, then got my MA in English from NC State in 1998. My focus in graduate school was Victorian literature, and I wrote my thesis on the work of Charlotte Mew. After graduating, I worked as a technical writer for IBM and Nortel Networks, where I was a full-time telecommuter for two years. I stopped working in 2002 to stay home with my children. Since then, I have been a stay-at-home mom. After living in the RTP area for two decades, I relocated with my family to Wilmington in 2008.
Philosophy
My philosophy of learning and teaching are that the best learning environments are those that allow the learner to engage with the material, whether that is online or in person. The important thing is that the instructor is available to guide the learner and facilitate the learner's access to relevant information.